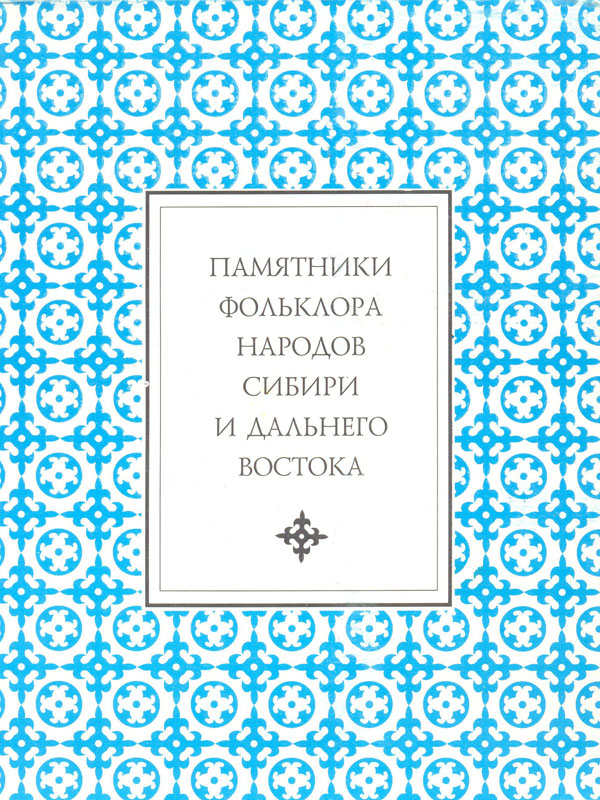 Dear reader!
We are happy to introduce you to the academic multi-volume series Monuments of folklore of the Peoples of Siberia and the Far East. This scholarly series is unique in containing:
Heroic tales, folktales, songs, pieces of family and ritual calendar folklore, myths and legends in recordings made from the best performers of 30 autochthonous peoples as well as newly settled peoples of the Siberian region.
The texts are rendered authentically in the original language accompanied by parallel Russian translation as well as extensive commentaries.
Works of song are presented with musical scores. Audio recordings of the published works can be heard on records or compact disks accompanying each volume.
Books in the series are illustrated with black-and-white and color photographs of tools, weapons, clothing, utilitarian objects, traditional musical instruments of Siberian peoples, and scenes of folk holidays.
In addition to works of oral poetry, the books include scholarly articles that explain the intellectual and artistic wealth found in the published texts. These articles analyze the historical, cultural and ethnographic context, and also folkloric and musicological aspects of all of the works included.
Respectfully, E. N. Kuzmina, Series Executive editor of the Series, PhD, Prof., Recipient of the State Prize of the Russian Federation
Monuments of folklore of the Peoples of Siberia and the Far East
The Evenk Heroic Tales. Brave Sodani-hero. All-powerful Develchen in the Embroided and Decorated Clothes (1990).
The Russian Calendar and Ritual Folklore of Siberia and the Far East: Song. Charms and Spells (1997).
The Russian family and ritual folklore of Siberia and the Far East. Poetry of Wedding Rites. Funeral Laments (2002).
Myths, Tales, and Historical Stories of Mansis (vogul): Recorded in 1889, 1951, 1958-1960, 1978, 1992, 2002 (2005).
The Byelorussian Folklore of Siberia and the Far East. Part 1: Family Ritual Songs and Laments (2011).
The Evenk Ritual Folklore and Songs (2014)
The Khakass Folktales (2014)
In preparation