11. The Nanaian Folklore: Ningman, Siokhor, Telungu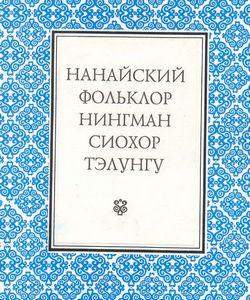 Introductory article by N. B. Kile, L. E. Fetisova.
Text preparation, translation, commentaries and indexes by N. B. Kile. Musicological article and musical scores by T. D. Bulgakova.—Novosibirsk: Nauka. Siberian Publishing Firm, RAN, 1996.—478 pages.
The volume is the first publication in the Russian Federation to cover the broad spectrum of Nanai narrative folklore. Sixty five of the volume's sixty eight texts have never been published before. Recordings were made in ten ethnic villages in Khabarovsk Province by N. B. Kile, an expert on traditional Nanai culture.
One of the unique recordings is the text of the heroic tale "Khalaton Mokhan", tape recorded by ethnomusicologist T. D. Bulgakova. This tale is an example of classic performance with sung monologs. An audio portion of this unique text is reproduced on the accompanying compact disk, along with other stories.