14. The Russian Lyric Songs of Siberia and the Far East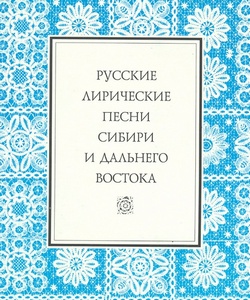 Introductory article, text preparation, commentaries and indexes by S. I. Krasnoshtanov with V. S. Levashov. Musicological article by V. M. Shchurov. Musicological editing by E. E. Alekseev, N. V. Leonov.—Novosibirsk: Nauka. Siberian Firm of the Russian Academy of Sciences, 1997.—524 pages.
This book gathers together results of fieldwork by several generations of scholars over the past 150 years. All regions of Siberia and the Far East are represented. The materials forming the basis for this work came from central and local archives, expeditions, and also publications in hard to access periodicals.
The book contains 520 texts of songs: peasant long songs, round dance lyrics, and dancing songs; Cossack and soldier songs; prison and vagabond songs; and songs of miners, factory workers and prospectors. Commentaries provide information about regional differences in local performance of the songs across Siberian and Far Eastern variants. Also noted are how these songs correspond to the texts of classic songs found in the collections of P. V. Kireevsky, P. V. Shein, and A. I. Sobolevsky.