6.The Russian Fairy Tales of Siberia and the Far East: Magic. About Animals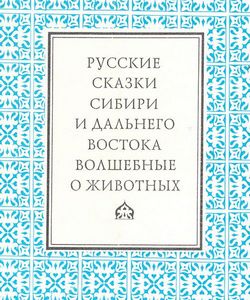 Introductory article, text preparation, notes, and indexes for the section on fairy tales were prepared by R. P. Matveeva and for the section on animal tales by T. G. Leonova.—Novosibirsk: Nauka. Siberia Publishing Firm, 1993.—352 pages.
The volume contains 76 fairy tales and animal tales recorded from the 1890s to the 1980s. A large part of these tales are published here for the first time. Significant space is devoted to modern recordings as representative of a living attestation of a once vastly richer Siberian tradition.
The book gathers together works narrated by both renowned masters as well as by storytellers unknown to the general reader.
In this volume you will find stories with plots that are widespread among East Slavic storytellers and also in Siberia, as well as rare texts that are no longer in circulation. The local Siberian color appears vividly in these stories.