13.The Russian Calendar and Ritual Folklore of Siberia and the Far East: Song. Charms and Spells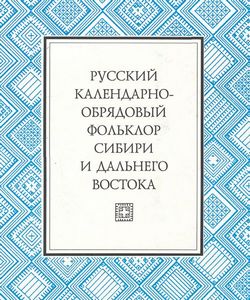 Prepared by F. F. Bolonev, M. N. Melnikov, and N. V. Leonova. Scholarly editing by V. S. Kuznetsova.—Novosibirsk: Nauka. Siberian Firm of the Russian Academy of Sciences, 1997.—605 pages.
This volume represents the most complete edition of Russian calendar ritual songs from the Siberian region. It was compiled based on materials gleaned from fieldwork and archival research. A portion of the texts derives from earlier editions that have become practically inaccessible to the general reader.
The book contains song lyrics associated with every holiday of the folk calendar: New Year, Shrovetide, Welcoming of Spring, Whitsunday, St. Peter's Day, and the Harvest Festival. Especially valuable are the spells and charms (373 texts), which are here published in such a large volume for the first time since 1917.
The audio record acquaints the reader with various examples of the Russian folk holiday songs known from Siberia.