24. The Ritual Poetry of the Sakha (Yakuts)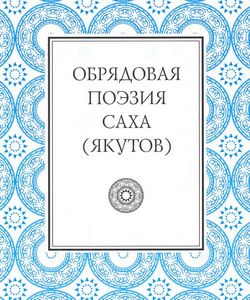 Introductory article by N. A. Aleskeev, E. N. Kuzmina, N. N. Toburokova. The article "Ritual dances of the Yakut" by A. G. Lukina. Musicological article by Yu. I. Sheikin. Compiling and preparation of Yakut texts by N. A. Alekseev, P. E. Efremov, V. V. Illarionov. Translation into Russian by N. A. Alekseev, P. E. Efremov, S. P. Rozhnova. Notes, commentaries, glossaries, indexes by N. A. Alekseev, V. V. Illarionova, E. N. Kuzmina. Compact disk preparation by Yu. I. Sheikin.—Novosibirsk: Nauka, 2003.—512 pages.
The book contains 86 examples of Yakut ritual poetry representing all main genres: incantations of master spirits of the earth, house and fire; incantations of hunters and fishermen; wedding, birth, cattle-herding and other work-related incantations; refrains from the traditional dance osuokhai and incantations pronounced during the opening of the Ysyakh Ceremony.
The volume's collection derives from field materials of the 1930s and 1940s. Part of the texts are taken from pre-revolutionary collections and from Soviet publications of Yakut folklore, as well as from recordings made during a multi-disciplinary expedition in 1986.
The compact disk contains recordings of Sakha ritual folklore primarily from the Vilyui tradition.