16. The Khakass Heroic Epic "Ay-Khuuchin"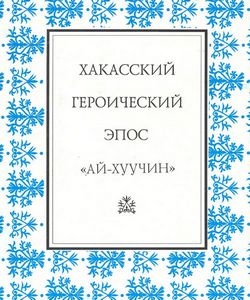 Introductory article, recording and preparation of texts, translation, notes and commentaries, appendices by V. E. Mainogashevoi. Musicological article and musical recordings by V. N. Shevtsov.—Novosibirsk: Nauka. Siberian Publishing and Bookselling Firm, 1997.—479 pages.
This is the first scholarly publication of one of the largest and most vivid heroic tales about a maiden warrior who challenged the sky dwellers. The tale is perfermed by the talented narrator P. V. Kurbizhekov and recorded by the volume's compiler, V. E. Mainogasheva.
The edition is prepared in the academic style and contains an extensive scholarly appendix providing an analysis of all extant variants of the tale. The introductory article on Khakas culture and oral folklore delves into the ancient particularities of the Khakas epos, which lead back to Turkic and Scytho-Iranian civilizations.
The accompanying record contains audio recordings of the famous singers P. Kurbizhekov and S. Kadyshev.