20. The Buryat fairy tales: About animals and Domestic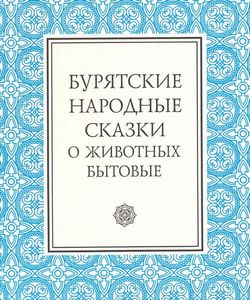 Compiling and preparation of texts, translation by E. V. Barannikova, S. S. Bardakhanova, V. Sh. Gungarova, B. B. Tsybikova. Introductory article by S. S. Bardakhanova, E. V. Barannikova. Commentaries and glossaries by S. S. Bardakhanova, B. B. Tsybikova.—Novosibirsk: Nauka. Siberian Publishing House of the Russian Academy of Sciences, 2000. 304 pages.
This is the second volume in the series dedicated to Buryat folktales. It includes 62 examples of tales of everyday life and animal tales recorded in various regions of Buryatia, Chita Province, Irkutsk Province and Mongolia.
The folktales published here reflect diverse story lines. The volume includes etiological and allegorical tales about animals, satirical tales about everyday life, as well as tales showing mixed story lines.
The volume contains the first publication of texts recorded by the famous Buryat collector and folklorist S. P. Baldaev (1889–1978).